For enquiries,
Please contact us at:
+609-5661004
Company Services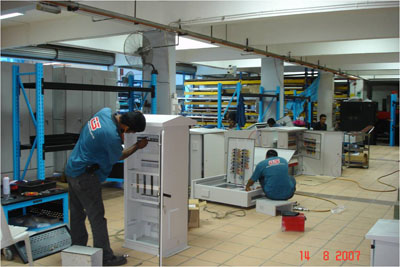 We are electrical engineering, contracting and switchboard manufacturing business specialising in:
Switchboard Design and Manufacture
Installation (Commercial / Industrial) - Switchboard
PLC Control Systems
SERVICING AND SITE MODIFICATION
To refurbate low voltage switchgear assemblies
To change bus bar system and changeover switch on-site
To calibrate protection relays like over current and earth fault
To supply parts and service for low voltage switchgear assemblies.
Industrial supplies - Wide range of industrial supplies for commercial and industrial. MCCB, MCB, ELCB, ACB, Switchgear, Low voltage / High voltage switchgear (ABB, Merin Gerin, LS, Terasaki, Chint), Custom Heat Sink, Transformer (VA), Motors (Ns), Siemens PLC control ..
Liquified Petroleum Gas (LPG) Services
- contractor for LP Gas pipe works and manifold
- Pipe works for laboratories, hotels, kitchen and restaurants
- Service LPG bulk tanks up to 10KL water capacity
- Requalification of LPG bulk tanks
- Flaring of LPG bulk tanks
HVAC/ACMV Design, Installation and Services - Air-Conditioning System Repair/Services
Metal Fabrication - Punching, bending, laser and plasma cutting on sheet metal plates. Customised peforated sheet metal fabrication.
Stainless Steel Fabrication - Kitchen equipment, Gates, Grill, Table, Rack,..
Refrigeration Manufacturing and Services
Engraving Services
Electrical equipment calibration such as primary injection test and secondary injection test. This include testing for earth fault relay, overcurrent relay and earth leakage relay.
Genset Rental Services - We have a wide range of generator for rental (from 10kVA up to 2000kVA)