For enquiries,
Please contact us at:
+609-5661004
Company Profile

GRAND SPEKTRA (M) SDN BHD
Private limited company, incorporated in Malaysia under the Companies Act 1965 and also operates as the holding company for the family's subsidiary companies.The company's main offices and manufacturing facility are located in Kuantan, Pahang. Our company manufacture and supply all kinds of low voltage electrical switchboard to contractors in Malaysia. Grand Spektra is one of the major electrical switchboard builder in Malaysia. Our switchboards is tested and certified by TCA (Testing and Certification Australia). We provide quality, safety and reliable switchboard which have gone through the full-type ASTA test in Australia.
Specialising in Mechanical and Electrical civil engineering projects, the Company concentrates on providing technically proficient tradesmen and products to mostly government entities (i.e. JKR & Telekom), initially qualifying as a Class E contractor.
Grand Spektra supports the core business of its other companies: refrigeration & air conditioning and handles the repair, reconditioning, servicing and refurbishment of older equipment.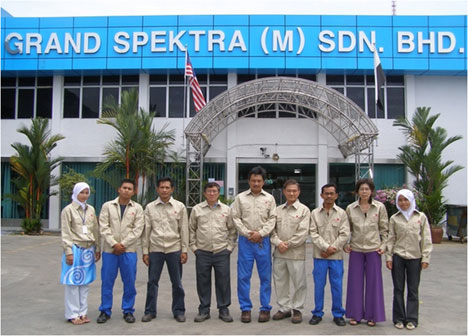 PUNCAK GENERASI (M) SDN BHD
One of its associate operating since 1991 began manufacturing switchboards and distribution panels by employing skilled workmen and basic NC machinery such as autoshear machine and bender. Throughout the years, Puncak Generasi has been upgrading its production line with more sophisticated machinery e.g. HACO notching machine, AFM NC autobender and AMADA CNC Turret Punch.
General Products & Services
- Malaysia Electrical Switchboards, PLC & Control Panels
- Stainless Steel Switchboard
- LV Control Panel, Feeder Pillars, Feeder Panels
- Low Voltage Switchboard, Main Switchboard (MSB), Distribution Board (DB)
- HVAC/ACMV System
- MCC Panels integrated with PLC System for controlling huge production plant. - Water Pump Design and Control
- Cooling Tower
- Cold Room
- LP Gas Piping Works
- Commercial Refrigeration
- Stainless Steel Kitchen Equipment
- Stainless Steel Works
- Stainless Steel Gates
- Stainless Steel Grill
The company has supplied protection and switchboards and switchgear to the world. The list of satisfied customers includes public utilities, general contractors and large industrial users, both private and public sector, on four continents.
Custom Designed to Your Specifications
Our Project Engineer can design a turnkey system based on your specifications, one-line diagrams and related drawings. Designs are completed using the latest version of AutoCad with customer review and approval via electronic mail for speed and cost efficiency.
Manufacturing Capabilities
Grand Spektra operates a fully integrated 60,000 square foot manufacturing facility including a full sheet metal shop with a CNC cutter, plus shearing, braking and welding facilities. We prime and paint to any specification common to the utility industry.
Performance Tested
Every product goes through rigorous quality checks and testing procedures before it leaves the plant. The wide range of quality checks are both in-process and prior to shipment. Standard procedures from point-to-point checks of wiring diagram s and continuity checks on wiring. We routinely perform schematic logic, device functionality and wiring tests before we ship to you.

The main switchbord do have ASTA certification. The switchboards have gone through the full type testing for low voltage LV switchboard in a Testing Lab located in Sydney, Australia. The test was conducted by Testing and Certification Of Australia (www.tcaust.com)